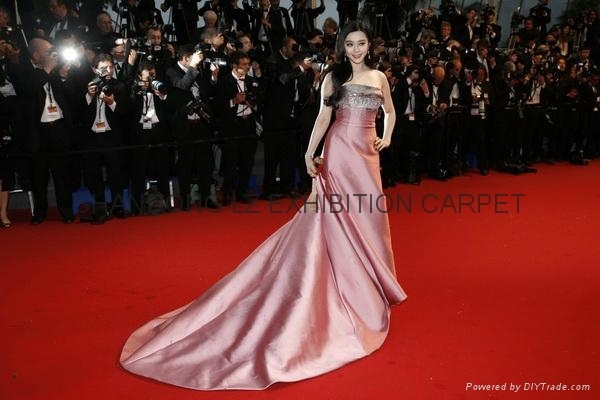 Shandong LZ Exhibition Carpet Co.,Ltd is a professional non woven needle punch carpet factory since 1997,
Under the name of Ruiying Group Co.,Ltd
(with total 3 factory for needle punched carpet, car floor mat & entrance mat)
For needle felt carpet, With total 3 factory, above 500 workers,16 set non woven line,
Equipment: With imported Dilo, Ferher needle punch machine, Japan Osaka, UK latex line,
our surface use import Germany Groz needle+Italy Brush to ensure surface apprance more full and with elascity,
With ISO, CE, SGS Fire retardant certificate EN13501.
also OEM Partner for Some needle felt carpet factory in west Europe, Indonesia, Thailand for long.
Exhibition Carpets All 48 Europe Color Flat, Rib.Velour surface
Marquee Cord Carpet 300g/M2 All 18 Colors
Blended Fabric Exhibition Carpet (50%PP+50%PET)
Resin/Gel Foam/Precoate Backed Needle Punch Carpet
Full Impregnated Latex Flat/Rib Exhibition Carpet
Flame-retardant EN13501-1 /Bfl-S1 Exhibition Carpet
Film-coated Exhibition Carpet(PET/PP)
Exhibition, Events, Display, Fairs Floor Covering Solution
RED CARPET RUNNERS for Marquees, Weddings, and Exhibitions.
Event,Wedding and Marquee Aisle Carpet Runner
Yellow/Blue/White/Black/RedGreen/Orange/Anthracite Exhibition Carpet
Residential / Commercial Broadloom Needle Punch Carpet
Exhibition and display felt 275-300g for exhibition panel and pin boards
Tufted Cut pile, loop pile, cut and loop, sisal carpet use for exhibition, events
commercial contract market (Hospitality & Office) carpet
domestic broadloom wall to wall carpet 2m 4m width
doule color jacquard wall to wall carpet suited for home, office
High definition 100% polyester printing wall to wall carpet
Peer and sticky DIY carpet tiles
CARPET TILE pp 624g 605h 690g 590g 500g 550g 580g 650g 675g 740g 50*50cm
10mm leiure,50mm sportsfield 20mm landscaping artificial grass
Caravan Carpet 100% Polypropylene Latex/Gel with Runner
UV stabilised Marine Carpet Hawksbury/Topdeck/Eildon/Performer/Flex/Raider/Reef
Office Carpet Fashion Star/REAL Durban/ ATLAS-GEL/
Heavy Duty Carpets Olympia, Mode, Riviera
Automobile Interior Carpet & Floor Mat
Indoor/Outdoor Entrance Matting & carpet Runner
Belgium Heavy Traffic Needle Punch Carpet
Europe Quality Belgium/Franch/Holland Needle Felt Carpet
For recycle needle felt carpet, our technical item as below:
material: 100% PP or Polyester(PES) or fiber bonded 50%: 50% rate
pile surface: flat or rib or velour or Dilour
like: 1 rib, 2 rib, 3 rib, 4 rib, 5 rib, 3/5 rib, 7 rib, CHEVRON, Berber, Super Brush,
Progressive pattern, Warships pattern, Water ripples and etc.
surface type: Dilo Needle Punch
pile weight: 250-1400g/m2
length: 20-100m or at request
backing: SBR full impregination Latex / Foam/Precoate/Gel foam/Resin/Gel/TPR/Rubber or special at request
with protective film if special requesst
Fire retardant standard :EN13501 Cfl-S1/GB8624-2006 Bf1-s1,t1
packing: 4 inch tube, 7-8mm, with plastic plug (Similar with Beaulieu)
color: avaible 48 or at customer samples
including: 100 white+524 Rosa+643 Green+700 Red+909 Chennet+917 Anthracite
955 Black+4971 Tanne+4963 Beige+0503 Violet+916 Silver+820+821
Equipment: With imported Dilo, Ferher needle punch machine, Japan Osaka, UK latex line,
our surface use import Germany Groz needle+Italy Brush to ensure surface apprance more full and with elascity,
with ISO9001 certificate,
1: Temporary floor covering for: Exhibition, Events, Marquee, Fair, Trade Show, Wedding, Displays and etc
2: Residential / Commercial/Domestic contract broadloom needle punch carpet
3: Budget/ Heavy duty Indoor/Outdoor Entrance Matting & Runner
4: Car carpet floor mat & automotive interior carpet
5: UV stabilised Marine interior carpet
6: Commercial Wall to wall carpet
beside, for exhibition flooring, we also supply artifical grass, vinyl and carpet tiles to meet different area request.
For export,our market including:Italy, UK,Ireland,Brazil,Malaysia, Japan.Thailand, Veitnam, Indonesia,India,Singapore, Spain,Uruguay,Chile and etc.
Our advantage is:QC=High quality+compective price.Selling point:No-pilling, small color difference, quality stable, more smooth when laying around.
We hope we can start business cooperation in the right time.
We can try best to meet customer different request.
Add: No 13-1,Huaxin Road, Jinan City, Shandong Province, China 250100
Tel:0086-0531-82701641 Fax:0086-0531-82701641
Add:Beitang Area,Wuxi City,Jiangsu Province,China 214044
Tel:0086 0510 85540901 Fax:0086 0510 84089901
Add: NO19,LANE 888,DONGDAMING ROAD,SHANGHAI,CHINA,200082
sdexhibitioncarpet@126.com
nonwovencarpet@hotmail.com
exhibitioncarpet@yahoo.com
Web: http://www.sdlzcarpet.com
http://www.nonwovencarpet.com